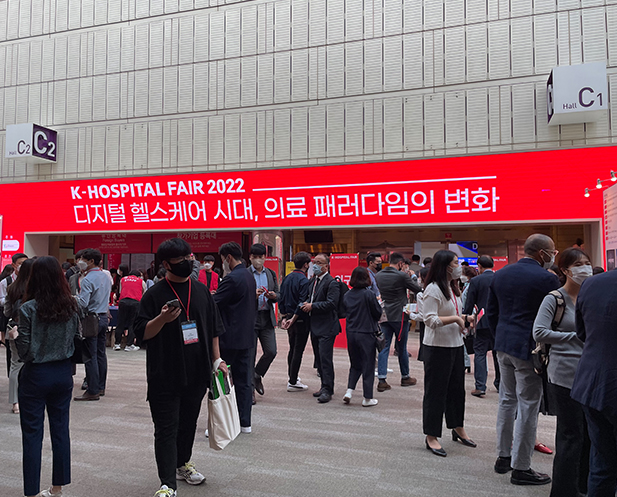 Title
K-HOSPITAL+HEALTH TECH FAIR with HIMSS 2023
Date
Sep. 14th(THU) – 16th(SAT), 2023
Venue
COEX, Seoul, Korea
(513, Yeongdong-daero, Gangnam-gu, Seoul, 06164, Republic of Korea)
Host
Korean Hospital Association
Organizer
MESSE ESANG, Future Medical Industry Council, National IT Industry Promotion Agency, Korea Health Industry Development Institute
Sponsor
Ministry of Health and Welfare, Ministry of Science and ICT, Ministry of Trade, Ministry of Food and Drug Safety, Korean Medical Association, Korea Pharmaceutical and Bio-Pharma Manufacturers Association, Korean Academy of Medical Sciences, Korean Nurses Association, Korean Medical Women's Association, Korea Health Industry Development Institute, KOTRA
Medical Imaging & Diagnostics equipment
Surgery & Endoscopy instruments and products
Hospital Facility & Central supply equipment
Laboratory, Clinical Chemistry equipment & Medicine
Therapy & physical medicine equipment
Biomedical, Pharmaceutical equipment & products
Medical Services, Education, Training and Publications
Hospital Building, Interior & Furniture
Hospital Food & Nutrition Services, Facilities
Disposable Goods, Fabrics, Emergency Medicine & Rescue equipment
Medical Information
System
Hospitals, Institutions, Associations and Organizations
Infection Control/Standard/Calibrator system & equipment
Infection Control/Standard/
Calibrator system & equipment
Physiotherapy, Orthopedic Technology, Rehabilitation equipment
HOSPITAL MEDICAL INFORMATION
Experience the IT technologies in healthcare environment to streamline hospital healthcare systems at the hospital mecal information special exhibition.
Visit our special exhibition on AI logistics, showcasing innovations in "smart logistics", a key strategy for sustainable hospital growth.
Learn more about how robots will innovate the future of healthcare at the Special Exhibition on Medical Robots.
Wellness is more than a trend, it's a lifestyle. We present healthcare services that improve quality of life.
K-HOSPITAL+HEALTH TECH FAIR with HIMSS 2023 Secretariat
For more detailed information about exhibiting at K-HOSPITAL+HEALTH TECH FAIR with HIMSS, Please contact to Secretariat.
Tel 82-2-6121-6363
E-mail khf@esgroup.net